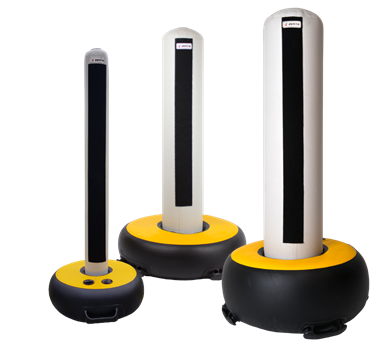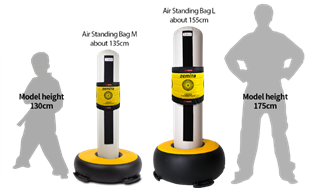 Fanta Air Standing Bag
Model No: ZFASB-01-C

Base diameter: about 56cm / Base height: about 20cm

Total height: about 145cm

Weight: 5Kg (about 46Kg with water)

For ZESS Fanta Punching Bag / ZESS Airbag Mitt S
Air Standing Bag M
Model No: ZASB-M-02-C

Base diameter: 65cm / Base height: 20cm

Total height: about 135cm

Weight: 6Kg (about 62Kg with water)

For ZESS Pad-80 / ZESS Torso Pad-80 / ZESS Airbag Mitt M
Air Standing Bag L
Model No: ZASB-L-02-C

Base diameter: 70cm / Base height: 30cm

Total height: about 155cm

Weight: 7Kg (about 94Kg with water)

For ZESS Pad-100 / ZESS Torso Pad-100 / ZESS Airbag Mitt L
Air Standing Bag XL / XXL
Model No: ZASB-XL(XXL)-02-C

Base diameter: 70cm / Base height: 30cm

Total height: about 175cm

Weight: 7Kg (about 94Kg with water)

For ZESS Pad-100 / ZESS Torso Pad-100 / ZESS Airbag Mitt L
Note
Water base is divided with column and you need to fill them with air or water separately

-----Base>>> Air : Water = 8 : 2

-----Column>>> Air 100%

Recommend not to punch or kick directly on the air bags without any additional shock absorbing pads.

Air may leak very gradually. It requires you to replenish the air sometimes,

e

specially Fanta Air Standing Bags and Fanta Air Bridge Bags with small air volume.
How to set up
Check the water base filled with a little air (about 20%) in the beginning

Fill the water base with the water hose enclosed.

Make sure the water stopper in the inlet is up(= closed) before connecting the water hose.

If it is down (= open), water will be pumped out due to the high pressure when you disconnect the water hose from the inlet. Be carefule.

Be careful not to inject too much water. Due to the high pressure, water may leak out.

Inject water till you can press the edge of the water base in 1-2cm depth with your thumb.

Fill the column with air with the hand pump enclosed till the column is hard enough.
How to drain water easily
Fall it down in a proper place with the column filled with air

Open the water inlet(= stopper down) and water will drain out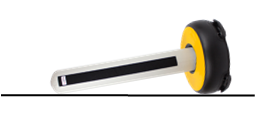 Caution
Be careful not to get any hard objects (ex: small stones, grains of sand, etc) in between the water base and the column. It may cause damage due to friction

.

Make sure the stopper is up and connect the pump or the water hose to inject the water or air.

Be careful of freeze in Winter.

Do not stab it with sharp objects
Warranty
It can be replaced only if defect is found within 15 days from the purchase date

Please note that damage caused by user's carelessness and misuse is not covered under warranty.