The Recommended Specification of Android / iOS Devices for ZEMITA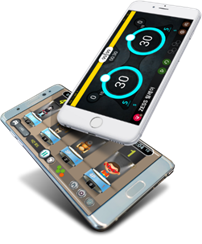 1.
Android
• Recommended Devices
Minimum Android version

6.0 or later (it can be changed by Google Policy)

Minimum Bluetooth

4.0 (LE) or later (BLE 5.0 is recommended)

Support of MHL (Mobile High-definition Link) to link with TV or Beam Projector

Samsung

Galaxy S8, S9, S10, Note 8, Note 9, Note 10, and later
• Non-Recommended Devices:
Devices without MHL: Samsung

Galaxy S6, S7, and many others

Devices with poor quality, expecially poor

Bluetooth quality.
Note:
Phones or Tablets without MHL have trouble with stable & fast connecting with TV.

Some low quality devices have trouble with connecting with 2 ~ 4

Zemita

transmitters.

2. iOS
• Minimum:
Version

8 or later

Bluetooth

4.0 (LE) or later
• Recommended: All iPhones and iPads released after 2014
Note
After installing Zemita apps in Android(iOS) devices, Turn off all the internet connection such as Wifi, LTE, 3G, etc and phone call before using Zemita system, and turn on Bluetooth and GPS only so that your competition is not disturbed by SNS messages, phone-callings, time lag by auto-updating other apps.